Stay Alfred is a technology based short-term rental start-up based in Spokane Washington with over 100 properties in 32 cities across North America.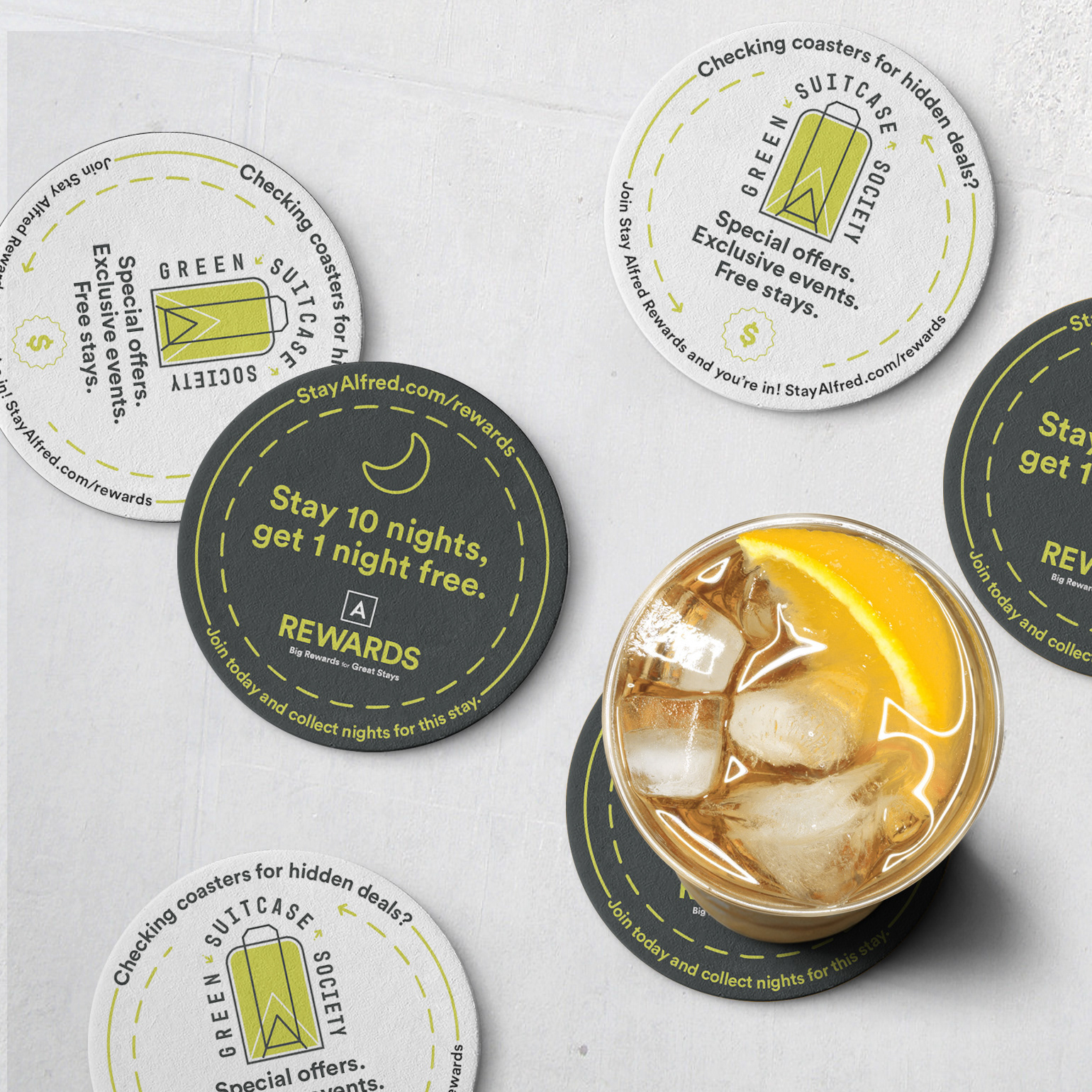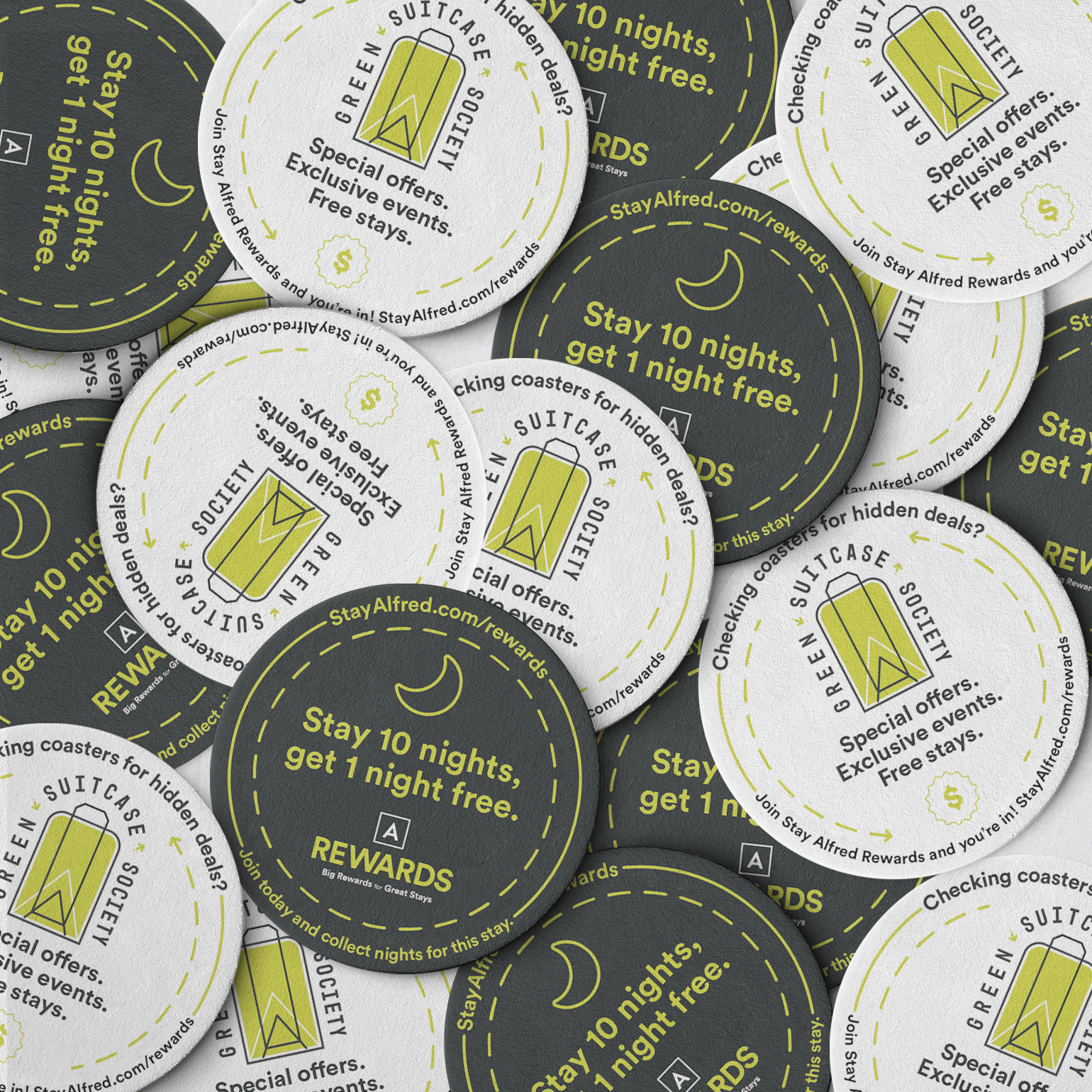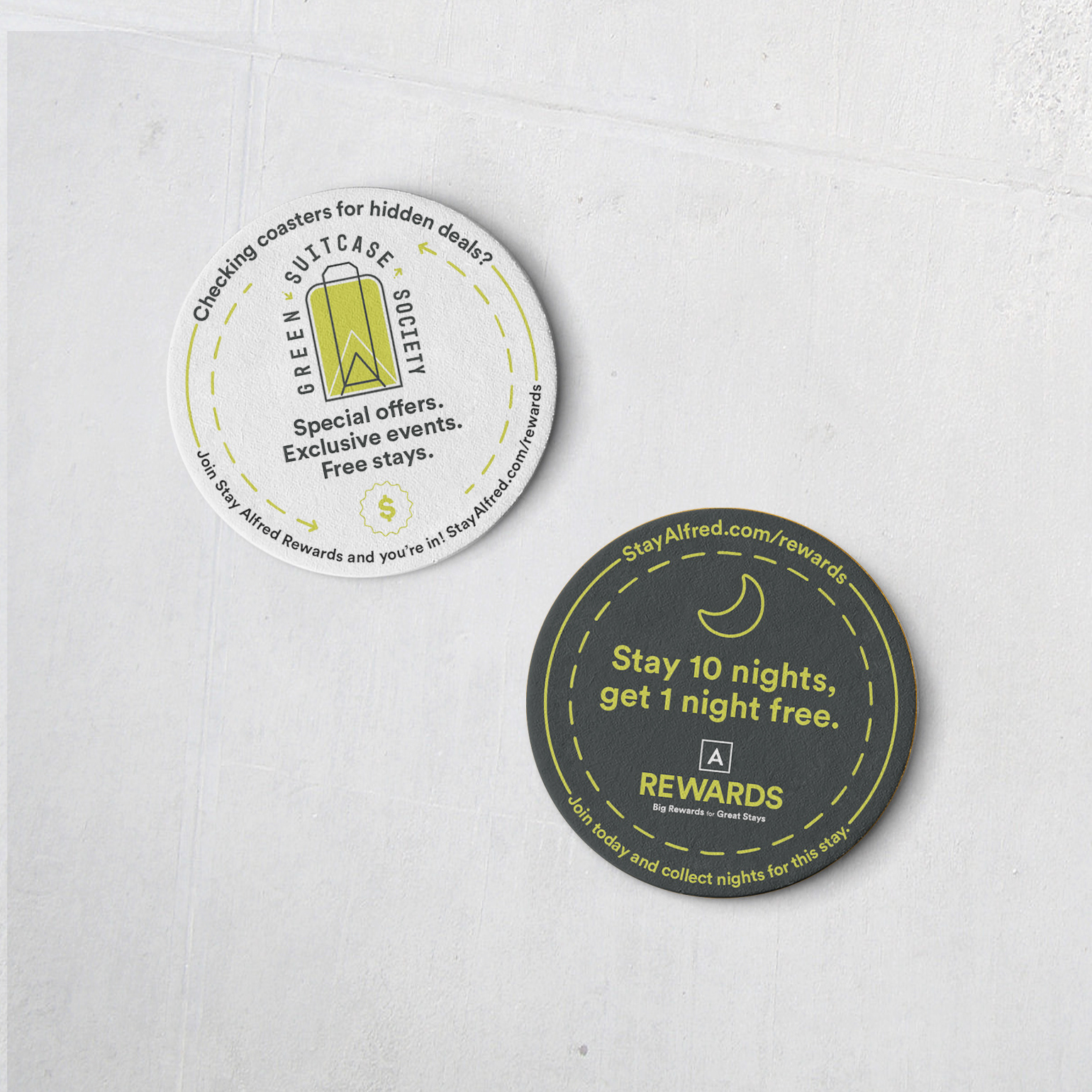 The in-unit coasters are designed to call attention to one of the many services and opportunities available to new and existing customers of Stay Alfred. As an ever-evolving brand Stay Alfred is working hard to maintain customer loyalty in a quickly growing segment of travel apartment start-ups. The best way to do that is to incentivize your customer's stays - the more you stay, the more stays you can earn.
​​​​​​​
These coasters are printed using a new, unique coaster design that is a cork center with poly laminated sheet on either side. This construction type was chosen for it's durability and longevity but also the cost effectiveness. The plastic poly sheet is very easy to clean and sticky residue wipes away quickly in the event of spills. These coasters are light weight so if dropped they will not cause damage to flooring or furniture. The poly also transmits inks to retain the most accurate colors as opposed to the typical thiner coaster-board style coasters.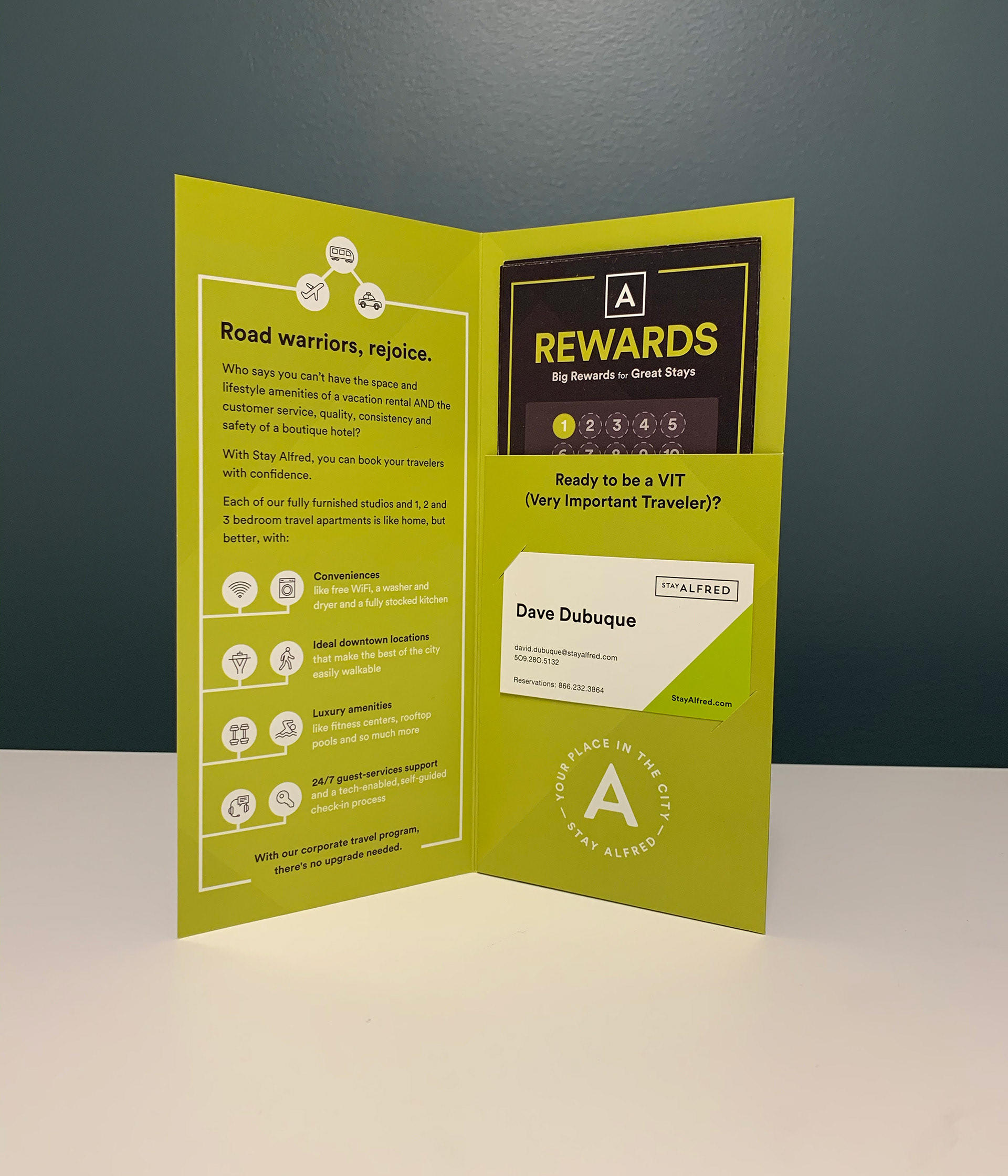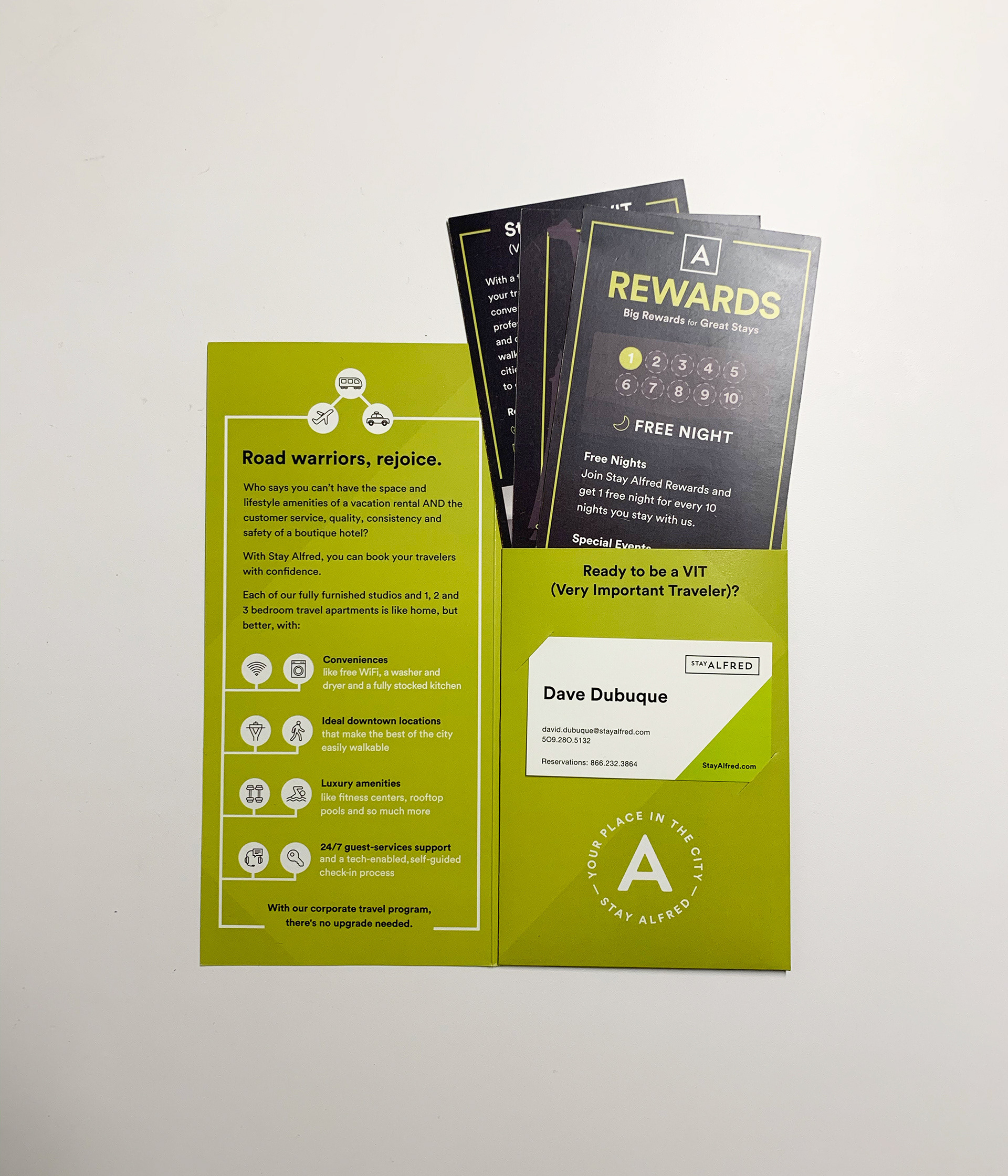 The corporate sales package was developed specifically for the needs of the Stay Alfred corporate sales team. With the team's direct input and feedback after rounds of proofs we were able to create a finished piece that the team is proud to present to new and existing clients. This deliverable is designed to showcase the identity and voice of the Stay Alfred brand and the opportunities included in the corporate traveler-ship program.
This piece is printed on a lighter 80 pound stock to allow the folds, pocket and business card insert to function easily. I specifically requested a UV coating on the folder for added external durability and smudge and residue resistance when handling. Each of the unique 115 inserts is printed on 100 pound stock for added rigidity when inserted into the folder.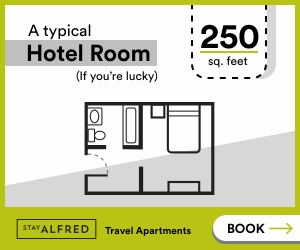 Programmatic ads are an important part of the marketing approach for Stay Alfred. Programmatic ads show proven click through and conversion when targeted correctly. With the help of Wpromote  and their ability to target specific users which in turn showed significant jumps in click through and conversion directly on the Stay Alfred website and not third party booking sites.  
​​​​​​​
Each of these unique ad campaigns were directed at specific audiences in an effort to increase profits in those markets. With information from strategic partnerships, sales metrics and other internal data sources the marketing team established which customer bases needed to see quarterly growth based on predetermined goals and developed strategies around those markets. 
Each campaign was prototyped in Sketch for approval by the creative leadership. Once approved all sizes were keyframed and then built/animated. After final approval files were tested/validated for proper HTML usability then all files were packaged and delivered to Wpromote for distribution.